protection click fraud
Joe Biden is an American politician who had a long career in the Senate, in addition to the position of vice president he held during the two terms of Barack Obama. He is the 46th president of the United States, after being elected in the 2020 presidential election. Biden entered politics in the 1970s, being re-elected to the position of senator several times.
He expressed interest in running for the US presidency in 1988 and 2008, but withdrew his candidacy. He was invited by Barack Obama to be his vice president, and after that he organized his candidacy to defeat Donald Trump. Biden was married twice and had four children.
Read too:Particularities of the presidential elections in the United States
Topics in this article
1 - Summary about Joe Biden

2 - Biography of Joe Biden

Birth and early life of Joe Biden

Joe Biden's personal life

3 - Beginning of Joe Biden's professional and political career

4 - Joe Biden in the Senate

5 - Joe Biden in the 2008 presidential campaign

6 - Joe Biden as Vice President of the United States

7 - Joe Biden in the 2020 presidential campaign

8 - Biden Government

9 - Joe Biden's political positions
Summary about Joe Biden
Joe Biden is a politician with a long career in American politics.

He was born into a family with good economic conditions, and has two degrees.

He entered politics in the early 1970s, being re-elected to the Senate without interruption between 1972 and 2008.

He was Vice President of the United States during Barack Obama's administration.

He was elected president in the 2020 election, taking office the following year.
Joe Biden Biography
Birth and early life of Joe Biden
Joseph Robinette Biden Junior, popularly known as Joe Biden, born on November 20, 1942, originating from the city of Scranton, in the state of Pennsylvania. He was the eldest son of the couple formed by Joseph Robinette Biden Senior and Catherine Eugenia Biden, being part of a family of Irish origin and with excellent economic conditions.
Biden lived in Scranton for a few years, but during his childhood he lived in Mayfield, in the state of Delaware. In this state, he carried out part of his educational training, studying in local schools and majoring in History and Political Science from the University of Delaware in 1965.
He also joined Syracuse University to study Law. He completed this course in 1968, and the following year he was admitted to the Delaware bar. It is said that part of his youth was affected by a slight stutter, which he claims to have overcome on his own.
Furthermore, his youth coincided with the period of Vietnam War. Biden was discharged from the US army because, in addition to being enrolled at a university, he has asthma.
Do not stop now... There's more after the advertising ;)
Joe Biden's personal life
Throughout his life, Joe Biden married twice. His first marriage, to Neilia Hunter, was in 1966. Together, the couple had three children, named Beau, Hunter and Naomi. Unfortunately, a Great tragedy has reached the Biden family. In 1972, an automobile accident involving its members occurred.
In this accident, Neilia Hunter died alongside her youngest daughter of the couple, Naomi, just one year old. The other two children suffered serious injuries, received medical treatment and survived the accident. At that point, Biden was already a United States senator, and he considered resigning his position to take care of his family, but was convinced not to do so.
Some years later, Biden met Jill Tracy Jacobs, marrying her in 1977.In his second marriage, he had a daughter, Ashley Biden.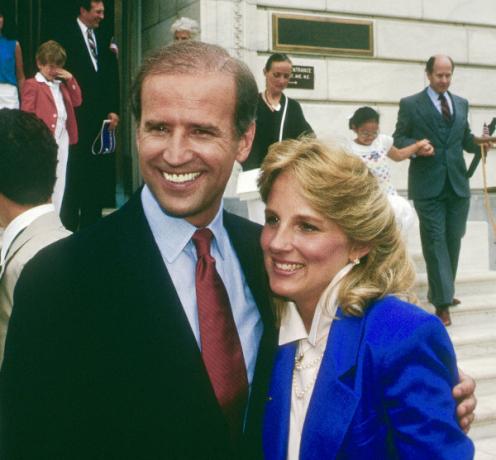 Beginning of Joe Biden's professional and political career
After graduating in Law, Joe Biden began his professional career, working as a lawyer. In this experience, he he served as an independent lawyer, as a public defender, he participated in the firm of a member of the Democratic Party and formed a law firm with a professional colleague.
Joe Biden in the Senate
The experience in law did not suit Joe Biden very much, and he decided to enter politics in the early 1970s. Affiliated with the Democratic Party, he was elected to the Castle County municipal council, serving in that role between 1970 and 1972. He then ran for a Senate seat in Delaware and was elected.
His campaign defended proposals such as defending the environment, ending the Vietnam War, civil rights, improvements to the North American healthcare system, among others. He was elected with more than 50% of the votes, becoming one of the youngest United States senators.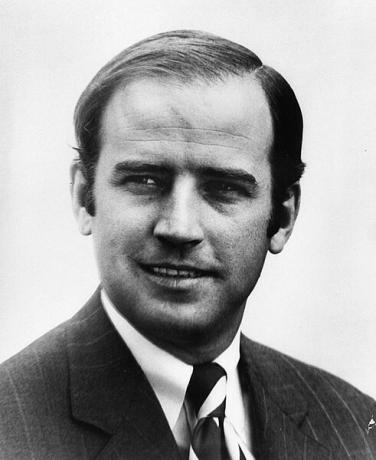 Biden's entry into the Senate made him assume the position of one of the most traditional politicians in the country, as he was re-elected in every election he contested for the Senate until 2008. As a senator, he worked to defend consumer rights, in addition to combating violence against women.
Also He served for many years on the Senate Judiciary Committee, responsible for appointing judges to various positions in the North American Judiciary. Joe Biden was also a member of the United States Senate Foreign Relations Committee, responsible for making important decisions regarding the North American diplomatic agenda.
At the beginning of the 20th century, Biden supported US military interventions in Afghanistan and in Iraq, but, over the years, he became critical of the conflict and admitted that his support had been a mistake.
Read too:George W. Bush — the US president who led the so-called War on Terror
Joe Biden in the 2008 presidential campaign
In 2008, Joe Biden showed interest in running for president of the United States. United States for the second time (the first had been in 1988), but his candidacy was not as popular as that of other members of the Democratic Party, such as Hillary Clinton and Barack Obama. This low receptivity made him withdraw his candidacy.
Shortly after giving up, he he was invited to participate in the Obama administration, if This one was elected. A meeting between the two decided that Biden would be Obama's candidate for vice-president of the United States. There were some differences between the two during the election campaign, but in the end, Obama was elected president and Biden vice president.
Joe Biden as vice president of the United States
Joe Biden was 47th vice president from the USA, during the two terms of Barack Obama's government. As vice president, he was in charge of many issues associated with American foreign relations, being directly responsible for the situation of the country's troops in Iraq.
Furthermore, he worked on several issues of relevance to the United States, such as reducing violence caused by firearms, in addition to defending measures against violence against women and encouraging research to combat cancer (the disease that killed her son Beau).
Joe Biden too worked on setting up the United States economic recovery program after the 2008 crisis, the Recovery Act, and participated in Obamacare, a healthcare reform carried out by the Barack Obama government. This program was responsible for giving access to healthcare to millions of people.
Joe Biden in the 2020 presidential campaign
With the end of the Obama administration, Biden took on several activities, including being a university professor. His name was constantly speculated as one of the possible candidates for the 2020 election, in which Democrats would try to prevent the re-election of donald trump. One wlack of support à Biden's candidacy was formed in 2018, and his candidacy was formalized in April 2019.
In the Democratic Party primaries, Joe Biden defeated competition from names like Bernie Sanders and Elizabeth Warren, and, in August 2020, her name was made official as the Democratic candidate in the elections. In the same month, Kamala Harris, senator from California, was announced as his vice president.
In the election, Joe Biden won 51.3% of the votes, allowing him to obtain 306 votes in the Electoral College, enough to be elected president of the United States. His tenure, however, was affected by the stance of Donald Trump, a far-right politician American woman who refused to accept her competitor's victory and also plotted a coup to remain in power.
Read too: How the Democratic and Republican parties emerged in the USA
Biden Administration
Joe Biden took over presidency of the United States on January 20, 2021, aged 78, making him the oldest person to assume the North American presidency in history, in addition to being the country's 46th president. Some of his first measures aimed to reverse decisions made during Donald Trump's government.
In April 2021, Biden announced the withdrawal of all US troops from Afghanistan, a country occupied by the United States since 2001. The departure of the troops allowed the Taliban, an Islamic fundamentalist organization, returned to power in the country. The measure divided public opinion.
O gBiden government receives criticism for the increase in inflation, which affected the cost of living of the North American population. One of the products that saw a rise in price was fuel. Still, the North American economy records good growth rates. Joe Biden also receives criticism for maintaining tight control over immigration policy in the United States.
In international politics, the Biden administration has been criticized for financially supporting the effort to war in Ukraine, initiated by Russia in 2022. Domestically, political polarization in the United States significantly affects Biden's government, as the president is the target of an impeachment request.
Impeachment was requested by a Republican deputy who accuses the president of abuse of power, obstruction and corruption. Investigations were carried out, but no evidence was found that the leader had committed any crime. Still, the process is underway in American politics, although the president's impeachment is considered very unlikely.
Joe Biden's political positions
Joe Biden is considered a politician with moderate political positions and centrist tendencies within the Democratic Party. Therefore, he has positions that dialogue with progressive tendencies but also has conservative opinions. An example of his capacity for consideration is his position on same-sex marriage, because, while senator, he was against it, but announced, during his vice-presidency, that he had changed his opinion on this question.
Others positions defended by Biden are:
decriminalization of marijuana (although I was against it for many years);

combating climate change;

decriminalization of abortion;

control of firearms.
SOURCES
WHITE HOUSE. Joe Biden. Available in: https://www.whitehouse.gov/administration/president-biden/.
LEVINGSTON, Steven. Joe Biden: life before presidency. Available in: https://millercenter.org/joe-biden-life-presidency.
BIOGRAPHY. Joe Biden. Available in: https://www.biography.com/political-figures/joe-biden.
NATIONAL GEOGRAPHIC. Joe Biden. Available in: https://kids.nationalgeographic.com/history/article/joe-biden.
BBC BRAZIL. Impeachment against Biden: 3 reasons why the investigation should not bring down the US president. Available in: https://www.bbc.com/portuguese/articles/clwx75y4w3qo.
Image credits:
[1]lev radin / Shutterstock
[2]Mark Reinstein / Shutterstock
[3]K2 images/ Shutterstock
Would you like to reference this text in a school or academic work? Look:
SILVA, Daniel Neves. "Joe Biden"; Brazil School. Available in: https://brasilescola.uol.com.br/biografia/joe-biden.htm. Accessed September 19, 2023.
Heat wave will hit Brazil this week, warns the National Institute of Meteorology (Inmet)...
Click on the link to see Joe Biden's biography. Learn about his early life, private life,...
Click here and read the analysis of the work "The Little Prince". Discover its main...
Teachs.ru