protection click fraud
James Joyce was born on February 2, 1882, in Dublin, capital of Ireland. He lived in France, Italy and Switzerland. Despite having Catholic parents and studying at a Jesuit college, the author abandoned the Christian faith in adulthood. Free-spirited, it was not until 1931 that he legally married his partner Nora Barnacle, with whom he had a son and a daughter.
The poet and novelist, who died on January 13, 1941, in Zurich, is part of the modernism European. His main works are characterized by the innovation of language. His most famous book is romanceUlysses, which dialogues with the work of Homer and has become a symbol of modernity.
Read too: Fernando Pessoa — one of the main representatives of Portuguese modernism
Topics in this article
1 - Summary about James Joyce

2 - Biography of James Joyce

3 - James Joyce's Literary Style

4 - Works by James Joyce

5 - Literary analysis of Ulysses, by James Joyce

6 - Poems by James Joyce

7 - Quotes by James Joyce
Summary about James Joyce
Irish author James Joyce was born in 1882 and died in 1941.

In addition to being a writer, he also worked as a teacher at a school in Italy.

Joyce's work is characterized by experimental language and social realism.

Despite being a modernist author, his first work presents symbolist traits.

The writer's masterpiece is his novel Ulysses, which dialogues with the work of Homer.
Do not stop now... There's more after the ad ;)
James Joyce biography
James Joyce born February 2, 1882, in a suburb of Dublin, Ireland. He was the son of John Stanislaus Joyce (1849-1931) and Jane Mary Murray (1859-1903). Catholics and landowners, they had ten children, James being the first. However, as the years passed, the family would become poor.
In 1888, James Joyce began his studies at the Jesuit College Clongowes. Then, in 1891, he went to study at a Protestant college. But between 1893 and 1898 he studied at the also Jesuit Belvedere College. Then the young writer joined University College Dublin.
So in 1902 he graduated and received the title of bachelor of Arts in Modern Languages and moved to France, where he lived in the city of Paris. His intention was to study medicine. However, he returned to his hometown the following year, as his mother was on the verge of death.
In 1904, already away from the Catholicism, met Nora Barnacle, a hotel maid, with whom he lived for a few months in Croatia. They then moved to Trieste, an Italian city, from 1905 onwards. In that city, the novelist worked as a teacher at the Berlitz School.
In 1907, James Joyce published his first bookin London, the work Chamber music. In 1915, as a result of the First World War, the writer and his family moved to Zurich. But in 1919, he returned to live in Paris, where, three years later, in 1922, he published his masterpiece, the novel Ulysses.
The marriage between James Joyce and Nora Barnacle was only made official in 1931. At that time, the couple had two children: Giorgio Joyce (1905-1976) and Lucia Joyce (1907-1982). Later, in 1940, the family returned to Zurich, where the Irish writer died on January 13, 1941.
→ Legacy of James Joyce
Joyce left monumental works such as Ulysses and Finnegans Wake. With Ulysses, he freed the modern novel from traditional narrative structures. Since then, much has been written about this work. Articles, dissertations, theses and books have analyzed it, in order to scrutinize the Joycean narrative.
The book also had several translations, including the Brazil. These translations are an "odyssey" on their own and arouse the interest of critics, given the complexity of Ulysses, an ambitious work that bridges the gap between Antique and the Modernity. Since then, Joyce is mentioned in movies, songs (as in the song rejoyce, by Jefferson Airplane) and in various media.
James Joyce's Literary Style
Joyce is a modernist writer. His works, therefore, present the innovative, contesting and anti-academic character of modernism. And also these features:
sparse commas;

neologisms;

experimental character;

innovative language;

realism Social;

interior monologue;

puns;

allusions.
Important:It is worth mentioning that the author's first work, the book of poetryChamber music, also presents symbolist characteristics, such as musicality, metrification and use of synesthesia.
See too: Oswald de Andrade — one of the main representatives of Brazilian modernism
Works by James Joyce
Chamber music (1907)

Dubliners (1914)

Portrait of the artist as a young man (1916)

exiles (1918)

Ulysses (1922)

Pumas, a penny each (1927)

Finnegans Wake (1939)

Stephen hero (1944)

Giacomo Joyce (1968)

Finn's Hotel (2013)
literary analysis of Ulysses, by James Joyce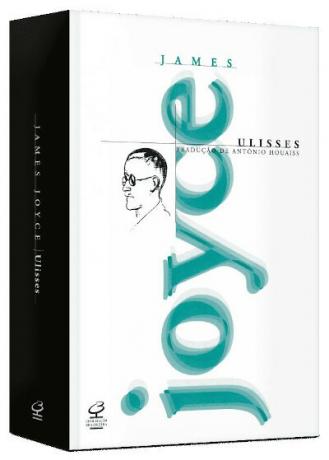 In this work, Joyce dialogues with the adventures of the Greek hero Ulysses, protagonist of the epic poem Odyssey, by Homer. So, ironically, he shows the banality and monotony experienced by the modern hero. An Irish Jew, the character Leopold Bloom is an ordinary man who lives a petty, everyday reality.
Thus, the narrator shows a day in the life of the protagonist, which occupies hundreds of pages. In that regard,does a critique of heroism present in traditional literature, in addition to the protagonism of everyday reality. Leopold is married to Molly Bloom, an opera singer, who, like her husband, is antiwar.
The work, of an experimental character, linguistically and structurally, after all, the narrator invents words and not uses conventional chapters, was misunderstood by critics, so conservative at the time of its Publication. no more, The plot consists of several everyday facts, from a funeral to the act of going to the bathroom.
Thus, we accompany Mr Bloom on his ordinary journey in the city of Dublin, in this dense, in fact Homeric work, which was considered immoral and prohibited until 1933, in the United States, and until 1936, in the England. By this time, the book had already been translated into Germany and in other countries.
The first part of the novel centers on Stephen Dedalus, a history professor, lacking a father figure, who represents Telemachus. The second reports facts from the life of Mr Bloom, who represents the Greek Odysseus. In the end, he and Dedalus get drunk and make existential reflections. Finally, the focus falls on Molly Bloom, the modern Penelope, and on her famous and long interior monologue, written without any punctuation.
Poems by James Joyce
Joyce's first poetry book is Chamber music, composed of thirty-six small poems. In it, it is possible to read poetry with symbolist traits, marked by musicality, as can be seen in poems I and V, in the translation by Alipio Correia de Franca Neto|1|.
Thus, the lyrical self of poem I speaks of strings that compose "sweet music" on land, in the air, by the river. Then he reveals that the music is produced by Amor "wandering idly", with "pale flowers on the mantle" and "black leaves in crown":
Strings on Earth and in the Air
Sweet music make up;
Ropes by the river, place
Where the whiners come together.
There's music by the river —
It is Love, wandering aimlessly;
Pale flowers on the mantle,
Black leaves in crown.
very soft playing,
The front to the pending music,
And fingers slipping
On an instrument.
Poem V, on the other hand, has as interlocutor someone whom the lyrical self calls "Golden hair", that is, a blonde person, probably. She was singing "enchanting aria" that caused the lyrical self to give up on reading. He asks her to lean against the window:
lean on the window,
Golden hair!
I heard you singing
Charming aria.
I no longer open the book;
look into the distance
The flame across the floor
In your dance.
I left my room,
my reading,
I heard you singing through
Dark shadow,
always singing
enchanting aria
lean on the window,
Golden hair!
James Joyce quotes
Next, we are going to read some sentences by James Joyce, taken from his novel Ulysses, translated by Bernardina da Silveira Pinheiro:
"God made the food, the devil the cooks."

"Everything is expensive when you are not interested."

"Every day completes its end."

"Monsieur de la Palice was alive 15 minutes before his death."

"A man of genius makes no mistakes."

"Be fair before being generous."
Grades
|1| JOYCE, James. Chamber music. Translated by Alipio Correia de Franca Neto. São Paulo: Illuminations, 1998.
image credit
[1] Record Editorial Group (reproduction)
By Warley Souza
Literature teacher
Teachs.ru