protection click fraud
O Papa-fig, also called "bag man" or "old man", is a legend of Brazilian folklore.
This urban and popular legend is known in all regions of Brazil, especially in rural areas. Therefore, in some places it is possible that it is known as "the old man".
Parents usually tell their children about their existence in order to prevent children from talking to strangers.
legend story
Legend has it that it is necessary for the Papa-Figo to eat a child's liver, and that is why it receives its name, which is the contraction of "porridge livers". That's because he believes his illness will be cured if he feeds on the blood and livers of children.
According to popular belief, the liver was the producer of blood and the cure for the disease would be in the consumption of a healthy liver.
Therefore, the children's liver, being purer, was what should be consumed for those who suffered from this disease.
In some versions of the legend, Papa-Figo has helpers who attract children and bring victims to him. In others, he himself acts in the capture of children, being nice to them and offering them candy and toys.
After eating the victim's liver, he usually leaves a sum of money beside his body for funeral expenses and also to help the family.
Appearance of the Papa-Figo
Papa-Figo is known as a ragged old man, humpbacked and bearded, who tends to wander the streets of the city with a large bag on his back. your intention is capture naughty children and eat your livers.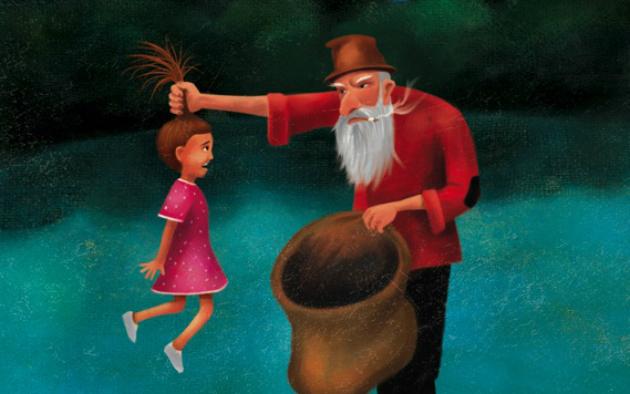 Although in most cases he has a human appearance, in some versions he has huge ears and nails and vampire teeth. The truth is, he suffers from a rare disease and that's why he looks terrifying.
According to anthropologist Luís da Câmara Cascudo in Geography of Brazilian Myths (1947):
"The oriole is like the city werewolf, who doesn't change shape, being tall and thin. It is said that he is an old black man, dirty, dressed in rags, with or without a sack, busying himself with kidnapping children to eat their liver or sell it to wealthy lepers. In other regions he is very pale, scrawny, with a stubble always unshaven. I went out at night, in the afternoon or at dusk. Take the opportunity to go out to schools, the gardens where the nannies have fun with their lovers, the haunted parks. Attracts children with disguises or showing toys, giving false messages or promising to take them to a place where there is a lot of beautiful things"
Want to know more about folklore? Check out!
Legends of the North Region that you need to know

Legends of the Southeast that you can't miss

Northeast Region Legends You'll Love

Unmissable Legends of the South Region

Fantastic legends from the Midwest region
Origin of Legend
According to scholars on the subject, the disease associated with this character is often leprosy or chagas disease, in which the liver is swollen.
Probably, the legend of Papa-Figo emerged in Brazil in the mid-twentieth century due to an outbreak of Chagas disease that occurred in the Northeast.
To contain the outbreak of the disease, Ministry of Health workers visited communities where people were affected by the disease. They performed necropsies on individuals who died where the normal procedure was liver puncture.
Thus, the lack of knowledge of the people in the community ended up creating the legend of the Papa-Figo.
Fun Facts: Did you know?
In the Recife region there is another very similar legend, that of the "clown who steals children". The similarity between them is that the two kidnap children. However, instead of an old hunchback, he is a person dressed as a clown.
Another striking difference is that the Papa-Figo feeds on the liver of its victims, while the clown steals children's organs in order to sell them.
Papa-Fig Movie
Inspired by this folk character, the movie "Papa-fig" directed by Menelau Júnior. The feature film is the story of a serial killer who removes the liver of his victims.
Also discover other unmissable folk legends:
Legend of Saci-pererê

legend of cuca

Legend of Acutipupu

Santa Claus legend

legend of Iara

Alamoa Legend

Redbeard legend

Caipora legend

legend of Curupira

Legend of the headless mule

Legend of Boitatá

Legend of the Golden Mother

Legend of the pink dolphin

bogeyman legend

Werewolf legend

Legend of Negrinho do Pastoreio

Legend of Vitória-Régia

Guarana Legend

Legend of Cassava

legend of the big snake
Folklore Quiz
7Degrees Quiz - Quiz | How much do you know about Brazilian folklore?
Teachs.ru